SOLUTIONS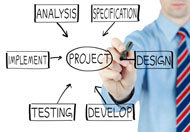 At System & Software Designers Inc., we recognize that the key to any successful software system development activity are the implementation of process proven methodologies and techniques, focusing on our customer. We meet or exceed the specific needs of our customer by developing a comprehensive business and technical approach to address their specific needs.
Our approaches are based on:
Providing experienced and well trained engineers applying time proven concepts, processes, tools and methods in support of customer requirements
Applying best practices in the software systems engineering approach at all levels
Utilizing state-of-the-art tools and methods where appropriate to achieve efficiency, effectiveness, and rigor in engineering software systems.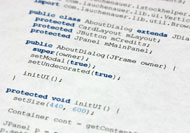 As a result, our teams of professional engineers are able to develop high-quality, cost efficient, end-to- end solutions for our customers. Our technical management capabilities implements best practices proven over many years and programs.
Our Engineering capabilities include: Engineering Management, Requirements Management, Requirements Analysis, Preliminary Design, Detailed Design, Source Code Generation, Development Testing, Verification and Validation, Deployment, Sustaining Engineering, Interface Management, Risk Management, Cost Modeling; Concept of Operations and Trade Studies.